What is ESG? What do we mean by ESG at MPower Partners?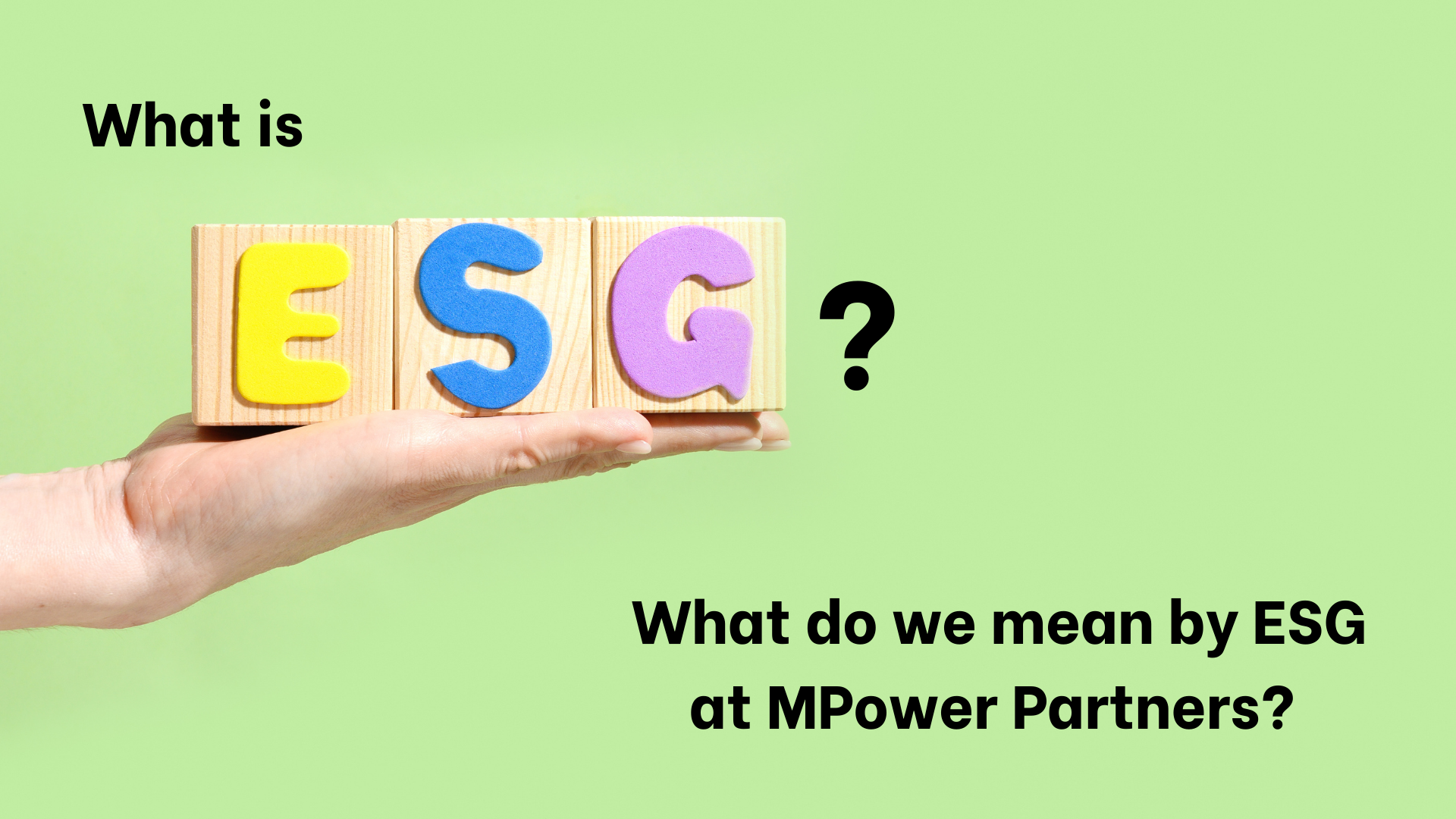 ESG is becoming increasingly prominent in the investment world, and not a day goes by that we do not encounter the word "ESG." On the other hand, it is hard to deny the feeling that the term "ESG" has taken on a life of its own. And since there are no textbooks explaining ESG for start-ups, some entrepreneurs have admitted to us that while they've heard of ESG, they don't really comprehend what it means, and some also don't understand the difference between ESG and SDGs.
Therefore, MPower has prepared a two-part series of articles explaining the basics of "ESG." In this first article, we provide our definition of ESG and what it really means.
ESG is a strategic framework for sustainable growth
Put simply, ESG is a collection of factors organized as: Environmental, Social, and Governance. Many people may know this much, but find it difficult to explain what it means when these categories are combined. To others with more in-depth knowledge, ESG can mean different things.
As MPower, we consider ESG to be a universal strategic framework. It is relevant and useful to all companies, not only those that directly do business in the environmental or social domains.
For example, one of the leading companies in Japan that embeds ESG into its management practices is online second-hand goods marketplace, Mercari. Shintaro Yamada, Representative Director and CEO, explains ESG as follows (from MPower's interview):
ESG sits at the core of a company's medium- and long-term growth and is one method you can use to manage a company's strategy. Therefore, by managing a company through various ESG perspectives and identifying related opportunities and risks, a leader or team can more easily take proactive, strategic actions. In particular, I believe that the ESG framework encourages this kind of medium- to long-term strategic thinking.

Shintaro Yamada, Representative Director and CEO, Mercari Inc.
ESG is a way for companies to achieve sustainable growth. Considering various elements of a business from these three perspectives, ESG factors help a company think holistically and deliberately about how its sustainability practices impact both internal and external stakeholders, as well as society. Stakeholders may include:
Internal: employees, management, operational owners
External: Investors, partners, customers, suppliers, local communities, government
Below are some of the specifics we consider under each category.
Environmental
Considerations under "E" help a company understand its environmental impact, through the greenhouse gas emissions of its operations, which includes energy resource management and the recycling of physical products, for example. For Japanese readers, the actions that fall under "E" might be the easiest to imagine. MPower asks the following questions:
Does the company measure its greenhouse gas emissions?
Are there any initiatives in place to improve environmental impact?
Does the company maintain an environmental policy?
Social
The factors under "S", help a company assess whether they take sufficient social responsibility, internally and externally. Considerations for MPower include data privacy and security, employee wellbeing, and diversity, equity, and inclusion (DEI). MPower asks the following questions:
What client/partner selection processes (including suppliers) are in place? Does it include ESG considerations?
Does the company maintain compliance with current privacy-related regulations and does the company have a data management policy?
Has the company experienced any data breaches?
Does the company have an overall diversity and inclusion policy?
Does it promote diversity and inclusion throughout the community?
What is the diversity breakdown of the company's employee base, managers, management executives, board of directors, and advisory committee?
Does the company adhere to relevant labor laws?
Does the company have policies and processes in place to manage potential physical and mental health, well-being, and safety risks for its employees?
What is the employee turnover rate?
Governance
For most companies which MPower engages with, the main considerations under "G" involve business ethics and conduct, as well as factors relating to the board of directors. MPower asks the following questions:
Does the company have a code of business conduct?
Does the company have an ethics statement or responsible tech policy?
Does the board of directors include independent outside directors?
Does the company have a process for team member complaints, grievances, and whistle blowing?
Has the company had any legal procedures relating to the company or its founders?
These are just examples, and the focus for each company will vary depending on its business domain and stage of growth. Nevertheless, we hope this list helps to visualize what we mean by ESG.
The next post will cover why ESG is important for technology startups.