SHE: Building an organization where women can thrive (Part 2)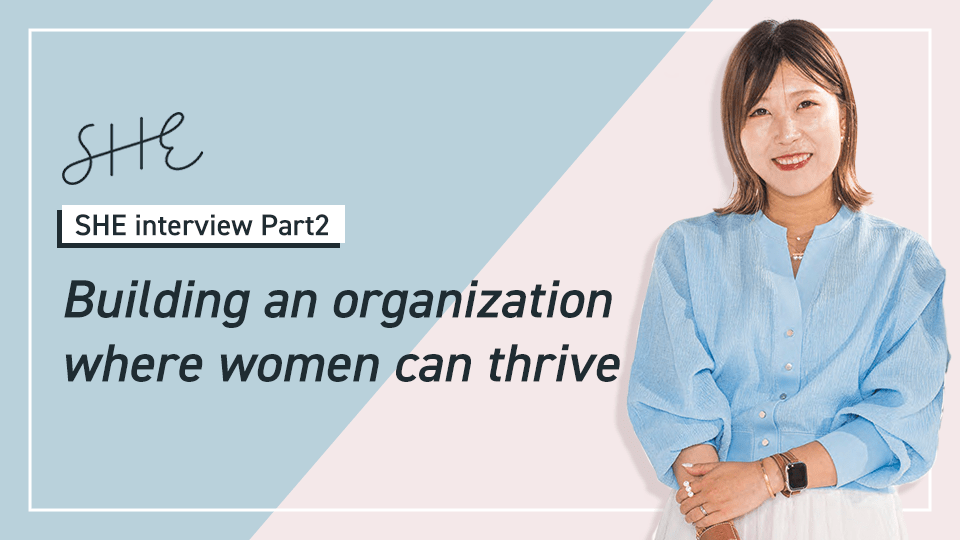 Eri Fukuda is the CEO and CCO of SHE Inc., the company behind SHELikes, a career support platform popular among millennial women that has aided in the career development and self-actualization of over 60,000 members. Since founding the company, Fukuda gave birth to two children and now balances her roles as a mother and CEO.
While balancing career and parenting can be challenging, Fukuda emphasizes the positive influences her parenting experience has brought to her leadership approach.
In this blog, we explore Fukuda's personal journey, her advice to women juggling career and parenthood, and her insights on empowering women through big changes in their lives.
Related article: SHE: Implementing ESG without compromising growth (Part 1)
Discovering the ability to step back during maternity leave
Fukuda recalls working "nonstop" before having children. The arrival of her first child dramatically transformed her way of working.
"Taking care of a child—another human—introduces many things that I didn't have control over. It made me realize that managing my work and personal life would not be possible alone. To my surprise, the business thrived during my maternity and childcare leave. This taught me the value of stepping back and avoiding micromanaging."
This realization only grew stronger following the birth of Fukuda's second child. The company had grown significantly, and there was a more robust backup system in place than during her first maternity leave. Furthermore, the management team's ever-improving effectiveness, as well as stabilization of the business, instilled a deep-seated confidence in Fukuda.
"This also presented an opportunity for me to redefine my role as a manager. My role isn't about running the day-to-day business but rather about creating more impact. It provided clarity regarding my managerial responsibilities."
Find a balance that works for you
Despite her initial worries surrounding child-rearing and the challenges of introducing even more variables beyond her control, Fukuda found the experience of having a second child to be "more manageable than anticipated." She credits this to "the support [she] received from babysitters, nurseries, and her understanding colleagues."
To make this possible, Fukuda highlights the importance of deciding what to delegate. She outsources all possible household tasks, including meal preparation, and has employed a babysitter since her younger child was two months old.
Yet, mothers making such choices often face societal pressure, with comments like "it's a pity to leave them at such an early age" or "you should be making homemade baby food." To this, Fukuda's advice is, "don't be swayed by the judgment of others and find a balance that works for you."
"When the alternative is to only interact with an overstretched and overstressed parent, I believe it's a better experience for children to have professional care. Time doesn't equate to love, and it's important for the development of a child's values to see their parents leading fulfilling lives."
Using lessons from child rearing in business management
Fukuda's parenting experiences have had a large impact on her leadership approach. Following her first maternity leave, she initiated improvements in the work environment for her team, adjusted the operational hours of SHElikes, and developed systems mindful of the diverse needs of employees and users.
Considering these experiences, Fukuda now champions the concept of a "work-life mix." The traditional idea of work-life balance implies dividing a total of "100%" between work and personal life, which can induce guilt, for instance, if only 20% is allocated to childcare.
However, the concept of a work-life mix encourages personal growth through the synergistic integration of one's professional and private life.
"The reality is, not only does the perspective gained from parenting contribute to the enhancement of our services and systems, but the principles acquired from managing the unpredictable can often be applied to improving communication with team members. Conversely, insights from company leadership can also be beneficial in child rearing."
This positive mindset may be valuable not only for those nervous about balancing parenthood and a career, but also for organizations trying to support team members through their childrearing years.
Creating an environment that encourages dialogue about major life changes
Currently, 10 employees at SHE are on maternity or parental leave. Although this number may seem high for a 120-employee start-up, it has not significantly disrupted SHE's operations.
The key to this lies in the open culture SHE has fostered, where employees feel comfortable discussing life events. For instance, instead of announcing a pregnancy during the second trimester, employees share their fertility journey from the outset. This approach allows managers to create a support system and make informed staffing decisions.
"In environments where such communication is challenging, personnel transitions and handovers may not occur in a timely manner, leading to significant disruption. Regular communication and fostering an environment where such dialogue is encouraged could be pivotal for organizations aiming to harness diverse talent."
Moreover, it's critical that a company's leadership is genuinely invested in promoting diverse ways of working.
"Startups lacking diversity in management don't truly appreciate the significance of diversity. Fostering diversity purely due to societal tailwinds is seldom effective. Leaders ought to fully understand and appreciate the importance of diversity first, perhaps through discussions with companies that have seen its benefits. I believe implementation of company benefits and diversity targets should be addressed subsequently."