SHE: Implementing ESG without compromising growth (Part 1)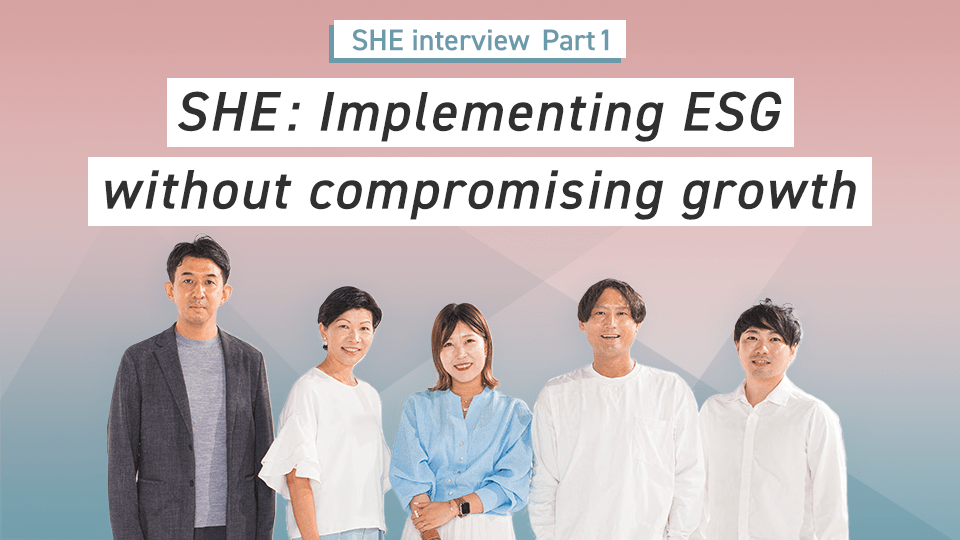 SHELikes, a career support platform popular among millennial women, has aided in the career development and self-actualization of over 60,000 members. Founded in 2017, SHE has experienced steady growth, buoyed by its vision to create a world where "everyone can showcase their unique value and live with passion."
In collaboration with MPower Partners, SHE ramped up its ESG integration efforts in 2022. "We have faced little pushback internally so far," reflects Eri Fukuda, the founder, CEO, and CCO of SHE, recalling the journey.
How can a rapidly-growing startup incorporate ESG considerations without compromising growth? We explore SHE's ESG journey to shed light on this question.
Social initiatives rooted in SHE's core values
For SHE, the "S" (Social) of ESG is central to their business model. The team, composed of 70~80% women, spearheads social advancement and reskilling for women through its operations.
Since its founding, SHE has been a frontrunner in promoting and adopting diverse work styles and has pushed to provide employee benefits akin to those offered by large corporations.
One such example is the "Hello! Baby" program introduced in 2021. This program stands out for its initiatives benefiting not just expecting parents but also those with young children. Expecting parents can take "care leave" for morning sickness and fertility treatment, while parents of young children are offered "kids support leave" for attending children's events, subsidies for daycare, among other benefits.
Being a company that values and fosters diverse lifestyles, SHE has been careful to avoid policies that exclude non-birthing parents. For instance, "care leave" can be taken by any employee for health reasons, without requiring an explanation, and has been used by employees across the board.
SHE truly believes in "empowering everyone, regardless of circumstance, to realize their own preferred way of working." The permeation of this value across all policies and firmwide messaging has allowed SHE to foster a comfortable work environment that brings the best out of its employees and attracts top talent.
In 2022, SHE launched a series of new initiatives. One such project is "NEXT FOUNDERS," which nurtures female entrepreneurs, initiated in partnership with POLA ORBIS, one of their shareholders.
As a female founder and CEO in a country where women make up 8.2% of founders and less than 1% of public companies are led by women, Fukuda believes that "an increase in the number of women-led companies would not only increase the number of female managers but also contribute to fostering a more comfortable working environment." The NEXT FOUNDERS program aims to help develop 100 female entrepreneurs a year.
Seamlessly integrating G (Governance) elements
SHE's ESG team, comprised of directors, as well as members from corporate planning and PR, has been working on materiality assessment in collaboration with MPower.
SHE currently addresses "S" (Social) and "E" (Environment) elements, such as through SHE's services or their flexible remote work policy. As the company matures, SHE now focuses on "G" (Governance).
A major action to bolster corporate governance was to establish a board of directors. It meant SHE had to balance the fast pace of a startup with the structure required from a governance perspective. For instance, the team often prioritized speed of PDCA cycles in service development, often at the expense of operational clarity. Fukuda recounted how "there were instances where decisions had to be made in the name of governance that sacrificed speed."
Nonetheless, the company's commitment to strengthening governance was met with little internal pushback. Fukuda attributes this to how deeply the ESG mindset is embedded in the company.
"Whether in E, S, or G, having random or 'pop-up' initiatives could cause pushback from employees, and that would be a shame. To avoid this, the key is management's ability to show the link between business goals and ESG to their teams. This enables employees to acquire necessary knowledge and understanding that facilitates smooth ESG integration."

Eri Fukuda, CEO & CCO, SHE Corporation
Expectations increase for management's effective resource allocation
Now in its seventh year since its founding, SHE has grown to approximately 120 full-time employees and 450 contract workers.
As the business grows, it becomes increasingly challenging to maintain momentum solely based on management's intentions. However, at SHE, there remains a palpable sense of unity and shared direction.
"In order to increase the business' growth trajectory going forward, we need a second 'bullet' that continues to propel us into the future. I believe efficient resource allocation is central to this effort," Fukuda opines.
Fukuda's thoughts are shaped by her experiences of stepping back from the business during her two maternity leaves since founding SHE. As we delve into Fukuda's experiences as a female founder in our next post, we will explore how her unique perspective shapes the future of SHE and its ongoing commitment to ESG.