Why diversity is imperative for growth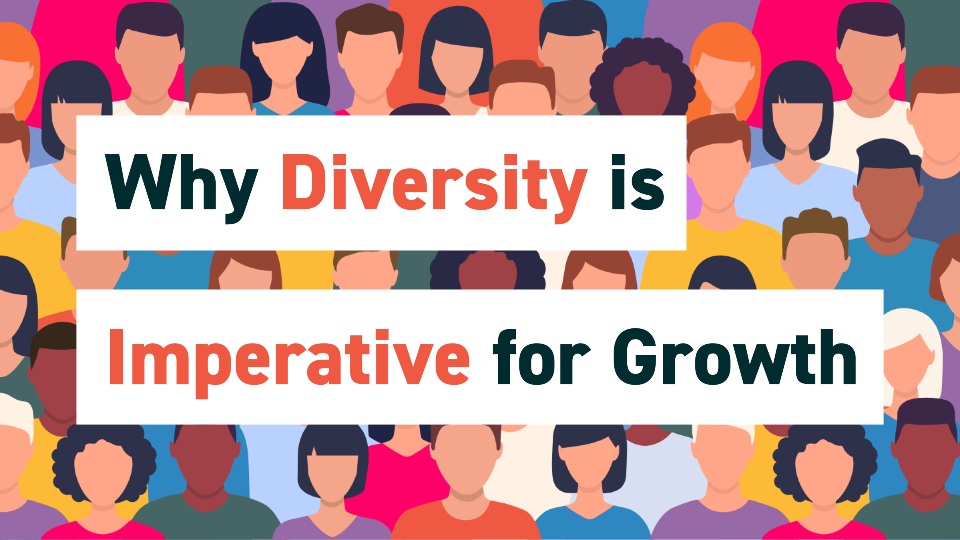 Most people understand why diversity is "nice to have." Yet many remain skeptical that diversity is a "must have" or an imperative for growth. This is despite the existence of many global empirical studies demonstrating how greater diversity is linked to improved performance for large corporations.
Diverse leadership linked with higher corporate performance
Let us first examine the linkage between diversity and large company performance.
In 2011, Catalyst demonstrated that US Fortune 500 companies with three or more women board directors (WBD) generated on average 50% higher ROE (15%) than those firms with no female directors (10%) (Exhibit 1).
Exhibit 1: Fortune 500 Firms: Greater Board Diversity Linked With Higher Performance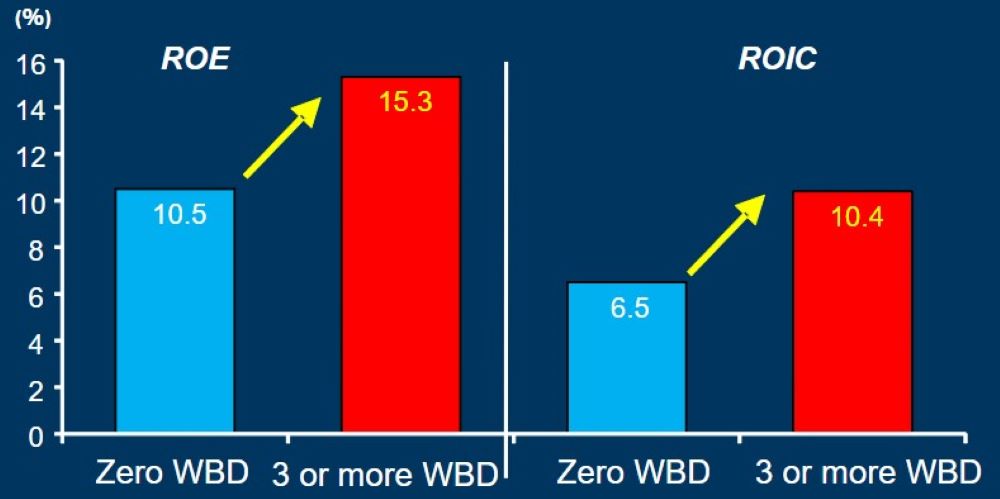 In Japan, Goldman Sachs research based on 297 TSE-listed firms that disclosed their female manager ratios between 2018-2019, showed that those firms with the highest female manager ratios boasted the highest average sales growth and ROEs (Exhibit 2).
Exhibit 2: Japanese Firms With Higher Ratios of Female Managers Linked to Higher Sales Growth and ROEs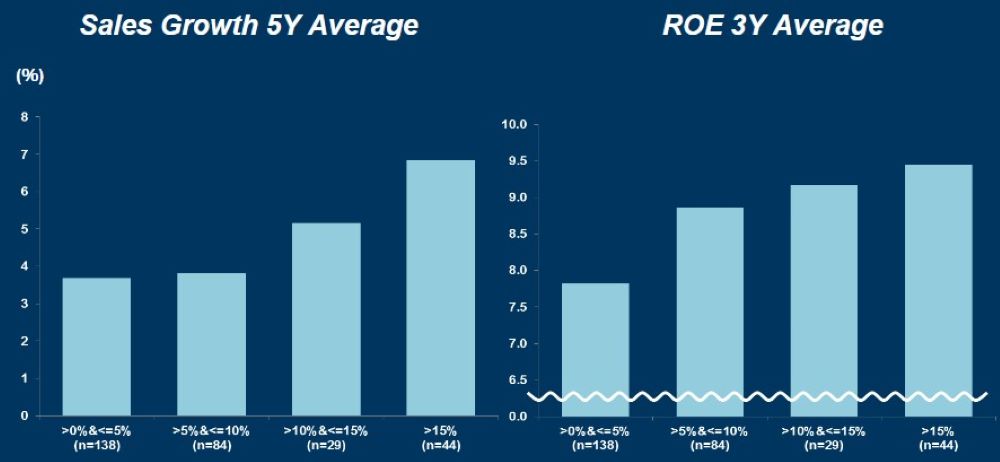 Female-founded startups raise less capital, but deliver better outcomes
While strong positive linkages have been identified between diversity and large corporations, what about diversity and startups?
A 2018 study by Boston Consulting Group and Mass Challenge compared the fundraising and business performance of 350 US startups over a five-year period, dividing them into two groups – those with at least one female in the founding team versus those with no females. Notably, the results showed that on average, the female-founded startups raised less than half the funds raised by male-founded startups (USD935,000 vs. USD2,120,000) (Exhibit 3). Despite this funding gap, however, female founded startups managed to generate 10% higher cumulative revenues compared to male-founded firms. Put another way, for every dollar of investment, female-founded startups generated 78 cents, while male-founded startups generated less than half that, or just 31 cents.
Exhibit 3: US: Female Founders Raise Less Capital, But Generate Higher Revenues vs. Male Founders

What about the situation for Japan-based startups?
MPower Partners conducted an analysis of 231 IPOs during 2020-2021, dividing the universe between startups with female vs. male founders. While the absolute number of female-founded startups was small, the results were similar to the aforementioned US startup study.
For instance, female founders accounted for merely 8 of the 231 IPOs (3% of the total) (Exhibit 4). Moreover, the average amount of funds raised by female-founded startups since their establishment (JPY403 mn) was 44% less than the average raised by male-founded firms (JPY719 mn).
Exhibit 4: Japan: Female Founders Comprise Just 3% of IPOs Between 2020-2021, and Raised 44% Less Than Male Founders

However, despite this funding gap, relative to every JPY1 of funds raised pre-IPO, the market capitalization of female-founded firms at the time of IPO was 32% larger vs. male-founded firms, and impressively, revenues generated in the IPO year were 20% higher for female-founded vs. male-founded firms (Exhibit 5).
Exhibit 5: Japan: Female Founders' Average IPO Valuation Was 32% Higher and Sales in IPO Year was 20% Greater vs. Male Founders

Why this disparity in fundraising and performance outcomes of female vs. male-founded startups?
The BCG/Mass Challenge survey cited three reasons: 1) Relative to men, women founders are often subject to more challenges and pushback from investors. 2) Male founders are more likely to make bold projections and assumptions in their pitches, while female founders tend to be more conservative. 3) Many male investors may overlook potential market opportunities since they may have limited familiarity with the products and services that women-founded businesses market to other women.
Diversity among venture capitalists linked to superior investment results
Turning to the investing side, how does diversity in venture capital impact investment performance? A 2018 Harvard Business School study based on 26 years of US venture investment data (1990-2016) found that venture capital firms with 10% more female investing partner hires made more successful investments at the portfolio company level, had 1.5% higher fund returns, and saw 9.7% more profitable exits. The median VC fund's return in the study was 14-15%, but funds with a female partner returned 16-17%.
These results were attributed to three factors: 1) since women typically face an uphill climb to make partner in a venture capital firm, the few that do make it might therefore be exceptionally qualified, 2) female venture capitalists may be more open to opportunities that their male counterparts miss, and 3) diversity can enhance risk management, since people with different backgrounds and experiences may identify risks that the majority within the organization cannot, which is critical for healthy governance.
Diversity supports innovation, recruitment, and risk management
How exactly does diversity drive better corporate performance? First, diverse perspectives help drive innovation by introducing new ideas and market opportunities to mainstream thought. While diverse opinions may initially result in friction, it is precisely this friction that fuels innovations which challenge the status quo. Second, if an organization does not embrace gender diversity, it is forgoing half the potential (and, in Japan's case, shrinking) talent pool.
Importantly, startups will need to pay attention to board diversity since it can impact their ability to raise capital. For instance, NASDAQ introduced a new rule that by 2023, companies must have at least one diverse board director, and by 2025, this will increase to least two diverse directors. Moreover, Goldman Sachs announced that starting in 2020, it would only underwrite IPOs in the US and Europe of private companies that had at least one diverse board member, and in 2021, it raised this target to two diverse directors.
What explains this movement to increase board diversity? It is rooted in empirical evidence showing that companies with diverse leadership perform better. Since 2016, US companies that went public with at least one female board director outperformed companies that did not, one year post-IPO. Japanese public companies are already being scrutinized for their insufficient board diversity, so it's best for startups to focus on this matter early.
In sum, promoting gender diversity should be regarded as part of a company's growth strategy rather than an obligation or cost. Diversity is imperative not only to accelerate innovation and growth, but to create a brighter outlook for the venture ecosystem and the economy overall. There is ample evidence to prove this globally, so now is the time for action.