Sukedachi: From ESG skeptic to ESG champion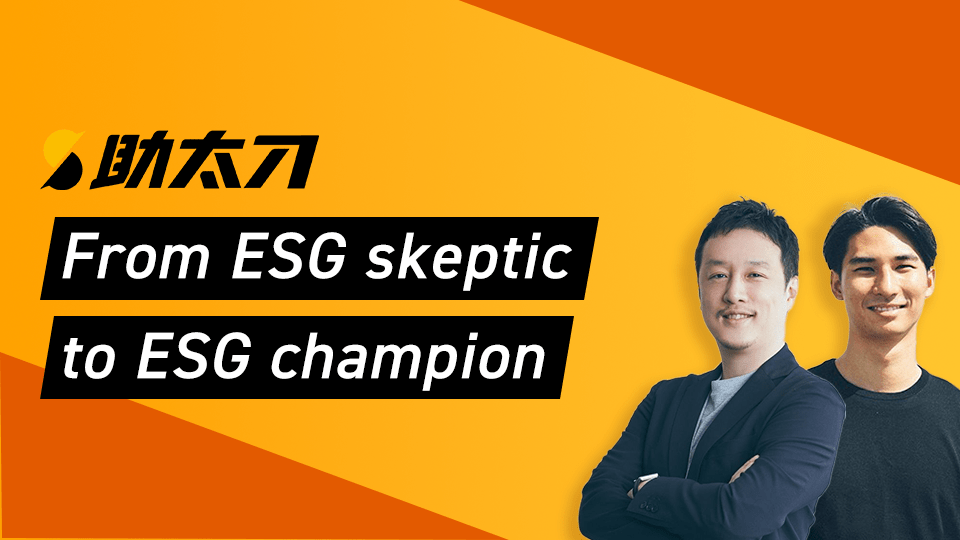 Despite increasing interest in environmental, social, and governance (ESG) practices among startups, holistic ESG integration is still uncommon in the broader startup ecosystem. While many startups believe ESG integration is for larger or public companies, others recognize it as an opportunity for differentiation.
Among these trailblazers is Sukedachi, a startup founded in 2017, driven by a mission to transform the Japanese construction industry into a more appealing workplace. The company embarked on its ESG journey in 2022, following an investment from MPower Partners; they launched a dedicated sustainability site just three months later.
Yoichi Wagatsuma, Sukedachi's representative director, president, and CEO, was initially indifferent to ESG, viewing it as "a concept more relevant to publicly-traded companies." We sat down with Wagatsuma and CCO Yuta Otsuka to understand how Sukedachi fast-tracked its ESG integration.
Linking ESG to Sukedachi's business model
Wagatsuma's preconceptions of ESG largely centered around the E (environmental) factors – an aspect where he was doubtful about the relevance to startups. His initial skepticism softened following discussions with MPower, as he began to recognize the inherent alignment of Sukedachi's business model with the S (social) factors of ESG.
Sukedachi offers a platform connecting workers and companies in the construction industry with the goal of addressing construction labor shortages. Their business is underpinned by the belief that facilitating the alignment of aspirations between construction workers and companies will improve worker satisfaction, reinvigorating an industry known for labor challenges.
"Sukedachi's growth could dramatically improve conditions for those working at the base of this multi-tier, subcontracting structure in construction – a clear purpose alignment with the 'social' facet of ESG. Once I recognized this, everything fell into place for me. It motivated me to go the extra mile."
Improving employee retention and promoting diversity at the executive level
A primary focus for Sukedachi through the past year and a half of rapid expansion was around Social factors, specifically on acquiring and retaining talent. Central to this effort was their four-member hiring team who onboarded over 100 employees in one year.
The company also established a 'People & Culture' team to aid employee retention post-hiring. The team has undertaken a number of initiatives, including a cultural onboarding, to familiarize new hires with company values, provide mental health support, constructing an evaluation system based on OKRs, and promoting inter-departmental interaction through "shuffle launches." Since implementation, these efforts have translated into a lower turnover rate, while observing a three-fold increase in sales. Wagatsuma recounted how "[he] believed these steps were crucial" when discussing Sukedachi's recent successes.
Additionally, Sukedachi is fervently promoting diversity. In a historically all-male industry, over 25% of the company's roughly 170 employees are women. Sukedachi aims to spearhead change in an industry long challenged with diversity.
As part of their governance strategy, Sukedachi established a board of directors and a board of auditors. To ensure objectivity and diversity of perspectives, half of the four-member board comprises external representatives. The auditors, a mix of full-time and part-time members with CPA and legal expertise, further bolster corporate governance. Furthermore, Sukedachi has a female director and a female auditor, which is uncommon among startups and a further affirmation of Sukedachi's commitment to diversity.
On the environmental front, Sukedachi has practiced paperless contracts and invoices since its founding and provide rent support for employees living within two train stops from the office to promote emission-consciousness. With MPower, they are working to measure Scope 1 and 2 emissions to further bolster their environmental stewardship.
Related article: The essential ESG factors (part 1): DEI and data security and privacy
ESG: an indispensable common language for communication
Wagatsuma emphasizes how Sukedachi's ESG progress to date is a mere reorganization of the company's organic activities into an established framework, rather than the result of an explicit pursuit of "ESG."
"We worked without the framework for a while, but eventually realized that it was challenging to communicate our ESG undertakings to stakeholders without one. It certainly highlighted the importance of leveraging the common language of a framework to communicate with a broader audience."
With this in mind, the company initially identified fourteen priority issues, or 'materialities', using various frameworks including ISO26000, SDGs, and SASB. They further narrowed down their priorities to nine initiatives, with a specific focus on those that translated into improved performance.
Wagatsuma recalls how they "emphasized the connection between ESG, Sukedachi's mission, and core business strategy, which naturally led to a narrowed focus on 'social' initiatives. While the 'environmental' aspect may not have been as pertinent to the business model, [the team] decided it was still an important pursuit for the purpose of risk mitigation."
Related article: Five steps to determine your ESG materialities
The positive business impact of ESG
Sukedachi's launch of their sustainability site elicited an overwhelmingly positive response and attracted considerable media attention; this translated into increased interest from shareholders and other startups.
Wagatsuma highlighted the positive impact of sharing ESG initiatives during partnership negotiations, where he has found it easier to win the trust and praise of major corporations.
Additionally, ESG efforts have positively influenced talent acquisition.
"When we share media coverage of our ESG efforts at company-wide meetings, our employees share this with their families. They feel proud to be part of a company 'working on ESG.' This effect extends to recruitment, attracting candidates who resonate with our ESG commitment."
Despite the substantial impact of Sukedachi's ESG journey, it is entirely managed by just two individuals: executive officer Otsuka and one member of the president's office. Wagatsuma himself lauded how "[ESG integration] didn't require extensive resources."
"Insufficient resources are often cited as a reason for avoiding ESG implementation, but we found that a mere two-person team was sufficient. What we found to be more crucial than volume of resources was access to someone able to communicate with high-level stakeholders and the presence of supporters like MPower."
Otsuka added how "there's no need to be intimidated by ESG."
"ESG may seem complicated, but any company that deliberately defines its purpose will inevitably align with ESG and realize sustainable growth. Practicing ESG means expressing that clearly in a universally understood framework. This aids communication of the firm's efforts with all stakeholders, helping drive factors like talent acquisition."

Yuta Otsuka, CCO and Executive Officer of Sukedachi
Sukedachi's ESG journey is just starting, and they aim to improve the quantification and visualization of their efforts to better communicate their progress to stakeholders. To learn more about Sukedachi's ESG initiatives, please visit their website.