Our ESG Charter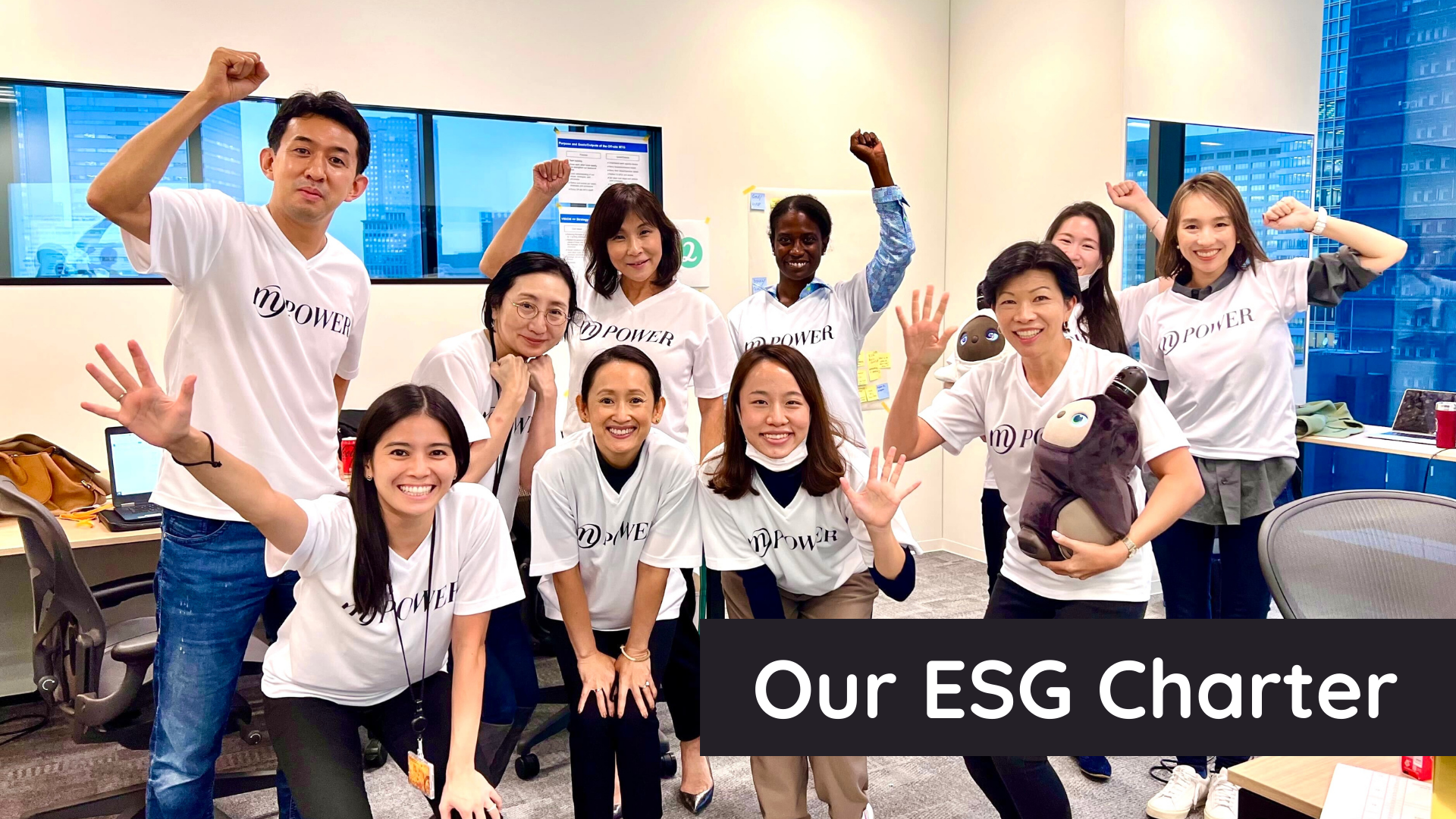 We are excited to formally share our ESG Charter through our very first blog post!
As we kick off in 2022, we're energized by the momentum of interest in ESG in the startup ecosystem, particularly in Japan. Though it's now a mainstream term, the founding General Partners of MPower have been thinking about non-financial factors, such as diversity and governance, in economic and financial analysis.
In our post-investment process, we ask our portfolio companies to develop an ESG roadmap, which consists of a list of priorities, commitments and actions, and metrics. As a newly formed fund ourselves, we wanted to do the same.
We believe that integrating the highest standards of ESG in all aspects of our fund operations is key to achieving our mission of empowering bold, globally-minded entrepreneurs providing tech-enabled solutions to societal challenges; helping innovative companies drive sustainable growth through ESG integration; and revolutionizing Japan's venture ecosystem via greater globalization, diversity, and innovation.
Without further ado, these are our goals (in Japan, often referred to as 'materialities'), which are also posted here:
Environmental
Resource management in our own operations – be as efficient as possible in our use of resources
Greenhouse gas emissions – measure, reduce, and offset our carbon emissions
Social
Diversity, equity, and inclusion – promote a startup ecosystem, which includes our own workplace, that is diverse, equitable, and inclusive
Health, safety, and wellness – ensure health, safety, and wellness of our employees
Knowledge, awareness, and development – enable learning and betterment for our employees, as well as the broader public on ESG topics
Governance
Ethical conduct – uphold the highest level of ethical conduct for all activities
Accountable leadership – ensure highest standards of governance to our fund operations
Transparency and reporting – provide transparency in our policies and activities, especially to our employees and investors
Data privacy and security – stay up-to-date and in compliance with all data-related best practices and regulations
We believe that a concrete action plan with measurement is critical to making these goals come to life. We are implementing these goals with actions and commitments in each ESG category, and will track our progress using defined metrics.
Here is an example for E:
As we take steps to complete these actions, we will report on progress. In addition, we plan to revisit the charter on a regular basis to reflect our changing materialities as we gain more experience together as a team.
A bit more about our process
A small part of our team sat down to create an initial draft of these goals, as well as a list of actions, commitments, and metrics. In order to come up with our materialities, we were guided by several frameworks, including GRI, SASB, and the SDGs for a holistic perspective of what topics we should cover. Additionally, we learned from the charters of other funds (many, but to name a few: Atomico, Balderton), and most of all, from our expert, Trista Bridges.
We then had a facilitated discussion with the full team to align and ensure buy-in across the full ESG roadmap, including the materialities, commitments and actions, and metrics.
Our learnings
It's about the process, even more than the outcome. From this process, the resulting list of our priorities or our roadmap are easy to show as an output, but what might be more important is what we learned about ourselves as the MPower team. It helps us be more aligned with each other as we head into 2022!
There are some things that are mainstream in other parts of the world, such as carbon emissions and diversity and inclusion. We think these are a must and critical to consider for all startups
There is no right or wrong answer, so this makes it hard. Put something down on paper, and keep moving!
Each company who has gone through this process does it a little differently. It's best to adapt it what resonates most for your company and its culture, as we did for MPower
We will keep learning! As we gain more experiences together as a team, our priorities will continue to shift. We'll come back to our charter regularly