MPower has joined the Diversity VC family as its first certified fund in Asia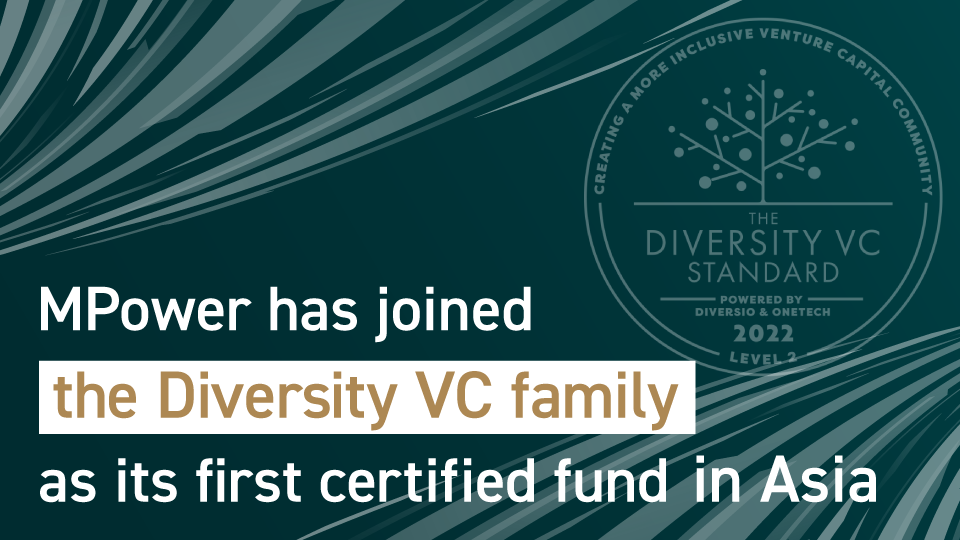 DEI (diversity, equity, and inclusion) has become a key topic for startup ecosystems in Japan and around the world. While the spotlight has largely been shown on startups (particularly at the founder level), the subject of DEI in venture capital firms has generally escaped scrutiny. Yet, this has begun to change as the VC world has slowly come to the realization that it too comes up short in respect to DEI. This is apparent when looking at their portfolio companies, where women and minorities continue to be underrepresented. In fact, this dynamic only worsened during the height of the pandemic years where, in key startup markets such as the US, funding for female founder startups dropped 31% in 2020. Thankfully the situation showed signs of improvement in 2021, most notably in an improvement in valuation sizes of female-founded ventures. However, when we look at diversity within VC funds themselves, we find an acute problem, particularly when it comes to investment roles. For example, 45% of VC employees are women, but they 11% are investment partners. And, the situation is arguably even more stark for minorities, who make up just 22% of the VC workforce.
As there is evidence that diverse investment teams drive stronger risk-adjusted performance, we believe the fixing diversity gap in VC calls for more deliberate action. Building a more diverse, equitable, and inclusive organization requires as systematic, measurable, and action-oriented approach. As an ESG-aligned fund, we aimed to embed DEI in our organization from our founding and put in place specific policies and actions to do so. While we're proud of our efforts and progress to date, we believe that we still have much to learn and do on this critical topic. And, it's important to us that we have a rigorous approach to do so, starting with an independent assessment of how we as a fund are doing versus our peers on this critical topic. We are fortunate to have found the Diversity VC certification, which has given us the robustness we've been looking for, as well as providing us with a roadmap of important steps we can take to improve going forward.
We're excited to announce that MPower is now a Diversity VC Level 2 certified fund, the highest certification level awarded. We are also proud to be Diversity VC's first certified fund in Asia.
Introducing Diversity VC
Launched in 2016, Diversity VC is a non-profit that offers an assessment and certification process that measures a fund's internal and external DEI policies and programs. To obtain the Certification, a fund must provide evidence of the policies and programs they have in place, as well as actions they've undertaken to embed DEI in their fund investment strategy and operations. The certification process includes a 1.5 hour meeting where the fund shares their commitments, actions, and progress, as well as a parallel in-depth review process by the Diversity VC team. Funds can receive an entry Diversity Standard Level or, the higher, Level 1 or 2 certification levels, with Level 2 currently the highest level that can be obtained. The following graphic provides a view of what is required to obtain the Level 1 and 2 certifications: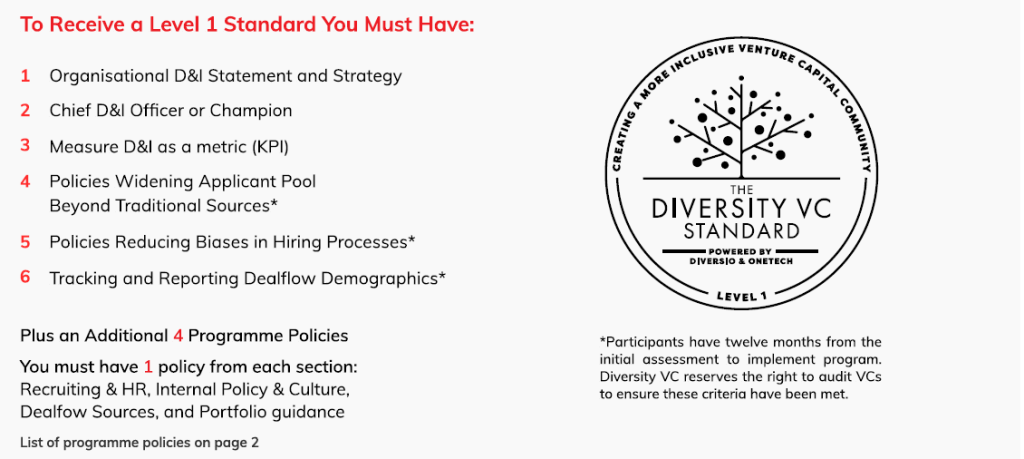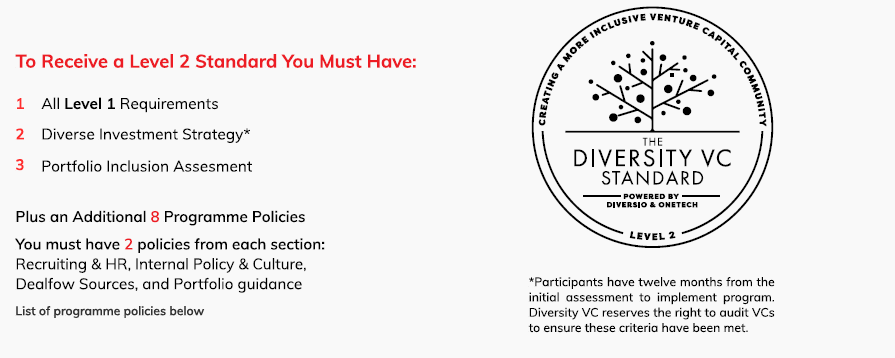 Source: "The Diversity VC Standard Overview"
When preparing for the assessment, funds should take a disciplined approach which will not only enable them to clearly articulate their DEI commitments, policies and programs, but also the progress they've made on their DEI targets and plans.
As an organization founded by and run by those with working experience in the VC sector, Diversity VC also brings credibility and practical experience to the topic of DEI in VC. The team understand the challenges that VCs face in addressing this topic and offer helpful and practical ideas that VCs can take on-board to accelerate their DEI progress. In addition to the assessment, Diversity VC also provides various resources, including a toolkit that funds can use to get started, DEI in VC focused research and reports, and once certified, a customized report with recommended next steps/actions and access to the widely used Diversio DEI management platform.
Thus far 65 VC funds around the world have obtain the Diversity VC certification, of which 1/3 are currently Level 2 and 2/3 Level 1 (more funds are expected to move up to Level 2 following their upcoming annual assessment).
MPower's Approach to DEI
At MPower, we have worked hard to take a systematic approach to embed DEI within all levels and activities of our organization. Some examples of policies and actions we have put in place to achieve this include:
Publicly available DEI policy (with key elements integrated in our ESG charter)
DEI as a consideration within our deal sourcing
DEI advice and support for our portfolio companies
KPIs to track diversity at both the portfolio and organizational (i.e. GPs, investment team, other team members, external advisors and experts, and LPs) levels
Policies around family leave and flexible work
While we have achieved Diversity VC's Level 2 certification as a result of our concerted efforts on this topic, there were key areas where our the Diversity VC assessment noted we could improve. Namely:
Conducting an annual equal pay analysis across all roles to determine if any discrepancies exist
Establishing an emergency care policy which would outline the resources available to team members requiring elderly or child care
Putting in place a returnship policy providing team members who have taken leave with an integration plan to return to work
Launching an inclusive mentorship program, formally pairing more junior and senior team members
It's exciting to see the positive action on this critical topic and so many leading VC funds joining the Diversity VC family. We're very proud to be a part of the global effort to establish DEI as a core topic venture capital and look forward to even more progress in the coming years.