How Jupiter embraces ESG to accelerate growth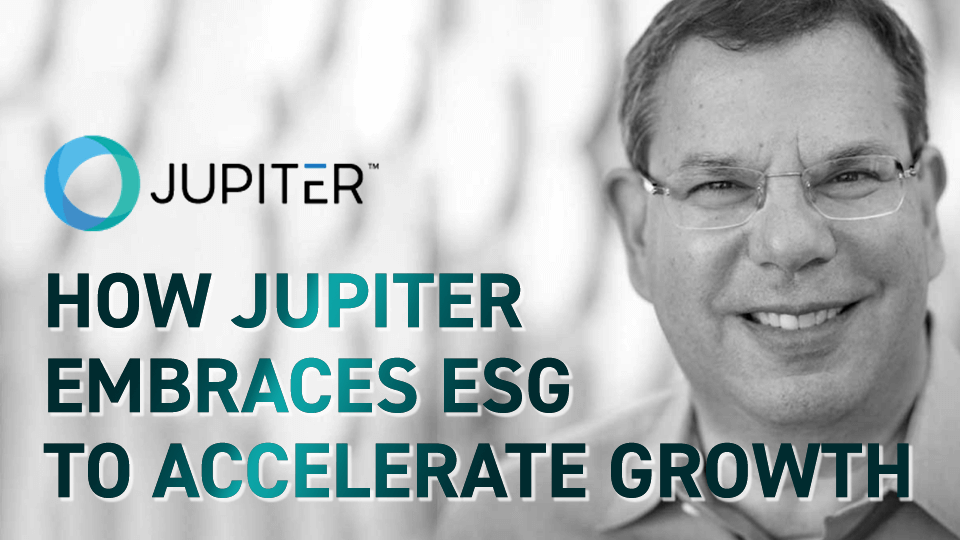 ESG plays a crucial role in business growth for any startup. However, when it comes to the benefits and effective approaches of embracing ESG, there are still many outstanding questions surrounding how to incorporate ESG considerations.
So, we interviewed Rich Sorkin, CEO of Jupiter, the leading provider of predictive data and analytics for climate risk and resilience and one of MPower's portfolio companies, about their ESG approach and the key benefits they see through the process.
What does ESG mean to Jupiter and why is ESG important for Jupiter's business?
ESG factors are foundational at all levels of Jupiter. We see Jupiter as a growing and powerful global voice for ESG topics, particularly on environmental issues, with diversity, equity, and inclusion (DEI) and with the alignment of ESG goals with business objectives. We have already begun to lead the conversation regarding various ESG initiatives—both internally and externally.
Could you highlight a few ESG priorities and the related actions you're taking?
The first ESG priority for Jupiter is DEI. For almost three years, we have prioritized DEI enhancements across all levels of the company. We seek to build an inclusive workforce, with a focus on diverse backgrounds, gender identities, openness, individuals' journeys, and points of view.
We have produced and publicly reported our DEI commitment statement, and we are finalizing the refreshing of our Jupiter CORE values in alignment with our DEI focus and ESG goals.
We made substantial progress in 2021 and 2022 in diversifying our workforce profile. We have new recruiting channels to reach a pipeline of diverse candidates, and we provide our search firms strong guidance that we need to see diversity in the candidates that they present. We require female and minority representation on our interview panels for all positions. As a result, we have an increase in women and underrepresented minorities in our employee base, as well as in management positions and our board of directors. And I truly believe that a diverse representation of people of all backgrounds enhances Jupiter teams.
As a business in the climate space, the "E" of ESG is a priority for us. We continue to be a significant thought partner externally, offering our science expertise and a strong voice in initiatives that combat impacts of climate change. See here and here. Jupiter also signed up for "Race for Resilience," a sibling campaign to "Race to Zero."
Finally, we are proud of the Jupiter Promise, an important dimension to our ESG efforts. The Jupiter Promise is a program to make Jupiter's services available at little to no cost to under-resourced countries and communities suffering most from the effects of climate change.  For the inaugural Jupiter Promise program, Jupiter worked with the Nature Conservancy in Colombia, South America, helping identify most at risk ecosystems.
We will continue to expand The Jupiter Promise globally as we grow our global footprint, and plan to reach more than 20% of the world's population, partnering with as many as 20 additional NGOs by the end of 2023.
Everything that we're doing for ESG are priorities we've carefully planned. But I believe they're getting more attention in a structured way because our investors have put a spotlight on it.
What benefits do you see from prioritizing ESG-related initiatives?
ESG goals have both business and culture benefits—both internally within the company and externally to our customers, shareholders, board, and community, as well as with the government, business leaders and public policy makers. We partner with many top companies who are committed, both in the US and abroad, to having strong ESG initiatives.
Within Jupiter, we use data and metrics to support our team members with significant internal DEI goals, enhanced governance practices, and environmental leadership across a number of scientific disciplines. Our metrics and target are key, because as they say–"you can't manage what you don't measure." We are managing to our processes, and we can check that what we're doing is the right thing.
It's clear to me that our ESG priorities are incredibly important to our employees. It's also important to our customers; they expect this from their vendors. We want to make sure that both our employees and customers know that they are being heard, and that this is important to us as leaders of Jupiter as well.
I will just add that these are things worth doing in and of themselves. For example, with DEI, you avoid groupthink. You have more diverse relationships that otherwise wouldn't be the case.
What have you learned so far from the process?
ESG dedication and enhancement is a multi-disciplinary process involving numerous stakeholders. Jupiter is committed to a cross-functional system which supports different points of views, discussions, and thought-partnering to enhance our collective voice.
Successful ESG efforts encompass all levels of the company: it must be, simultaneously, a top-down and bottom-up process. Our ESG efforts will remain evolving and dynamic so that
Jupiter can both build support and pivot when it's necessary to align with business goals and company progress.
In order to gain support for our projects and initiatives, ESG must be a foundation upon which we build appropriate policies and processes which can scale as our company grows. We will continue to learn, experiment, and enhance our ESG effort and deliver shareholder value in alignment with meeting Jupiter's ESG goals.
Why ESG for early-stage companies?
The whole set of things to make a good ESG company is much harder to get right. There are benefits to them regardless, but the earlier the better. For Jupiter, we believe our ESG-related benefits are synonymous with business growth and performance, and thus the returns for our investors, so it makes sense for these to be our top priorities.