ESG actions and metrics: things to keep in mind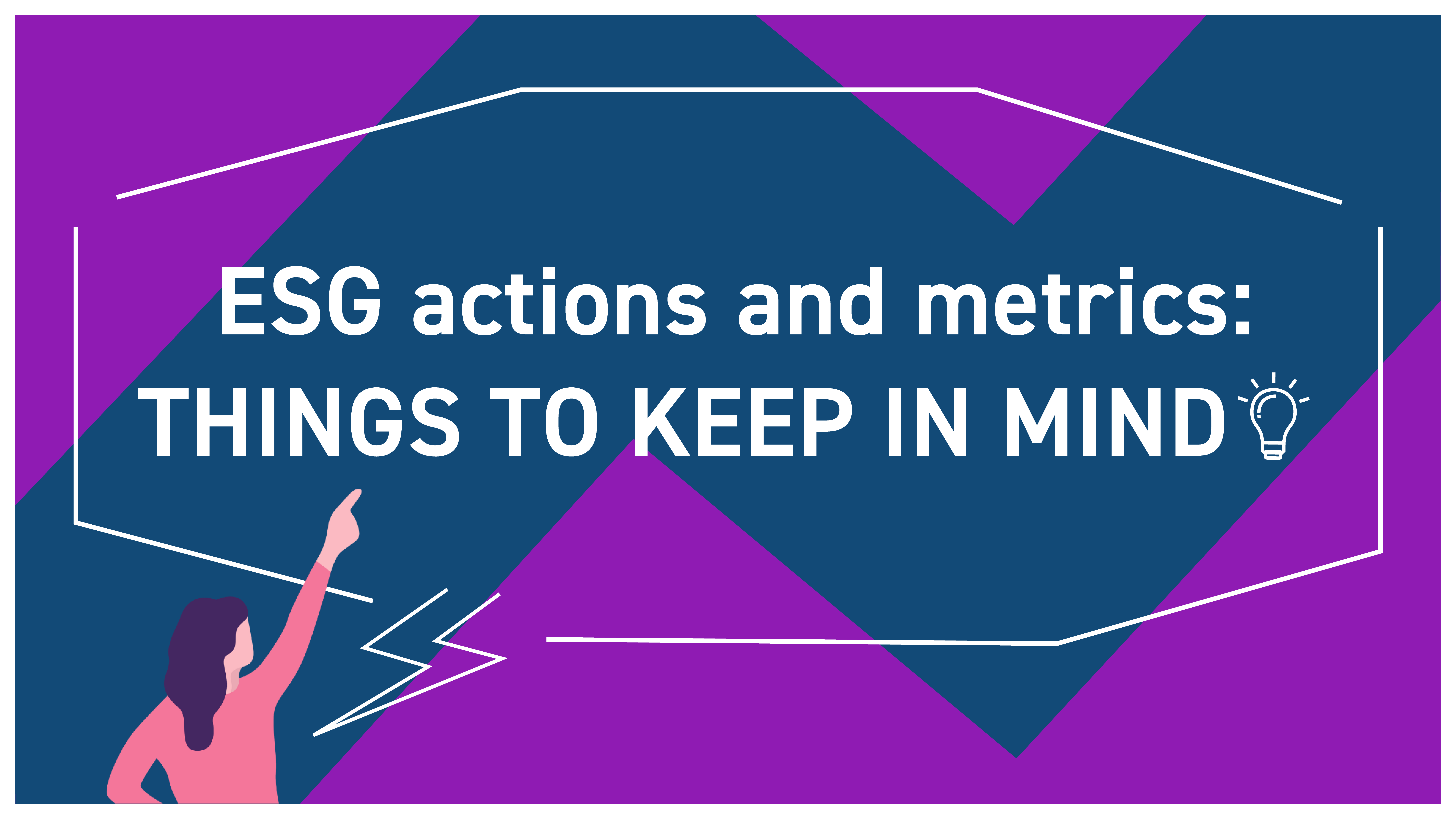 The original blog post in Japanese was published on August 9, 2022. 
The last blog post covered the high-level steps in materiality analysis, so the next step is to consider actions and metrics. 
Determining commitments and best actions to take
When it comes to identifying commitments and actions, there are five important points to keep in mind.
Select actions that align with the company's area of focus. The most impactful actions will be those that align with its mission and business model. Selecting such actions will help it avoid "nice to do" actions and concentrate on the ones that are truly business critical.
Go for quality over quantity. A company will be better positioned to take action and succeed if it focuses on a few actions that are ambitious yet achievable and result in a bigger impact on the company and its stakeholders.
Ensure that the defined actions are measurable. It is important to measure progress on actions with metrics that can be measured, and to determine who within the organization will be responsible for tracking this progress.
Look beyond the tech sector for ideas and inspiration. While it's important that a company look at what its peers are doing, it can also look at other sectors, verticals, and markets for new ideas.
Track, and communicate, progress periodically. Develop a roadmap with a schedule for when progress will be tracked and keep stakeholders updated on progress. It's important to keep in mind that different stakeholders require different forms of communication.
Establishing targets and defining metrics
Once commitments have been set and actions determined for each materiality, the next step is to choose targets and metrics for each. Consider what indicators to follow in order to check whether progress is being made on the action or commitment.
Make targets ambitious yet achievable
Before thinking about how to measure progress on a particular action, consider setting targets. There are certain actions for which targets aren't necessary; however, they can be very helpful in giving the organization a clear goal to aim for.
If the team decides to set targets, ensure they are ambitious yet achievable. The rationale that has been set for each target should be clear (e.g., based on best practices globally). Here's an example of how this could work:
| Materiality | Action | Target |
| --- | --- | --- |
| Diversity, Equity, and Inclusion (DEI) | Embed DEI in the values, governance, and operational practices of our company | 30% representation of women on our board by 2025 (based on a 30% Club campaign) |
Some additional examples of targets could include (keep in mind that what's feasible will vary based on where the company is based and/or operates):
Achieve gender parity in C-level leadership by 2027
Reduce energy consumption by at least 32.5% by 2030 (aligning with EU target)
All employee electronics devices repurposed or recycled by 2025
Measurability matters for metrics
Many business owners get nervous about hitting targets that are set. But we think about targets as being more about measurement, especially at the beginning, rather than being hit, per se. Irrespective of whether a company decides to set a firm target, we strongly recommend identifying metrics to measure progress against.

Metrics don't always need to be quantitative—and often cannot be. Metrics with a "yes" or "no" answer are still valid, and a mix of quantitative and qualitative metrics (across the full ESG roadmap) is healthy.
There is also an element of practicality in defining metrics that will need to be measured over time. This means companies should :
Think through what type of data is needed to track each selected metric—if possible, focusing on data that is most readily available
Put in place a process to ensure easy access to the data needed on a regular basis
Designate someone within the company to gather and track the defined metrics and their related data
From our investor perspective, here are some metrics that should be measured on at least an annual basis.
DEI
Track how much diversity is in each of the following pools. The percentage of women and non-Japanese citizens should be measured at least in Japanese companies, and the percentage of women and ethnic minorities are minimum requirements for all the other companies. Other factors such as disability, sexual and gender identity, and other aspects relevant to your country or other context should be considered as well.
Employee base
Managers
Management executives
Board of directors
Advisory committee
GHG emissions
Measure GHG emissions not only in your company but also in the whole supply chain in which your business is involved.
Scope 1: Direct emissions from owned or controlled sources
Scope 2: Indirect emissions from the generation of purchased energy
Scope 3: All the other indirect emissions that occur in a company's value chain, including both upstream and downstream emissions
Employee engagement
Employee engagement can be tracked through the following indicators. When the company gets larger (50+ employees), we recommend conducting a periodic employee engagement survey.
Retention rate/turnover
New hires
Once you reach here, your ESG roadmap is in your hands. Next, we'll cover tips and tricks on how to communicate about ESG implementation with stakeholders both internally and externally.   
We thank Trista Bridges for her contributions to this post.