Diversity, equity, and inclusion (DEI) at MPower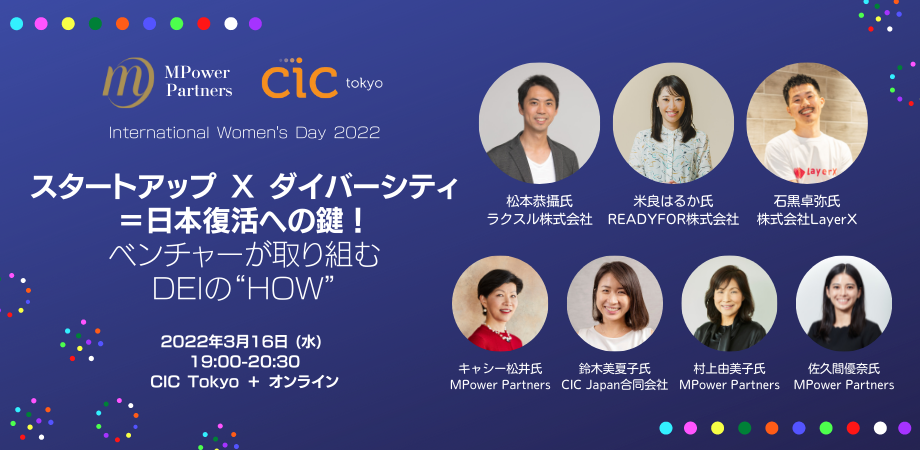 As we celebrate International Women's Day 2022 on March 8, it gave us an opportunity to put down on paper MPower's commitments to diversity, equity, and inclusion. Today, we posted our DEI Policy on our website, which you can find in full here. We will also host an event on diversity and startups at CIC Tokyo on Wednesday, March 16 where we'll discuss this topic in more detail:
https://mpower-cic-startup-diversity.peatix.com/view
Significant research on this topic has yielded strong evidence that diverse organizations outperform (for example – here, here, and here). While there has been progress, startup ecosystems globally continue to lag on various key DEI indicators. At VC firms, there continues to be a significant gender and diversity gap, particularly at the investment team level.
DEI at the core of our operations
We believe that it is our responsibility to put DEI at the core of all aspects of how we operate, from our investment activities, to our community and ecosystem involvement, and to how we compensate and reward our employees.
Our DEI Policy states our commitments in:
Investment process and portfolio support, from deal sourcing to portfolio company DEI support
Internal operations, for our team and in terms of measurement and transparency
Ecosystem engagement, from making DEI the norm in the venture ecosystem to education and awareness
Our 10% event policy
One key point in our DEI Policy is our event policy. We will speak at conferences where the total percentage of diverse speakers (defined as women, LGBTQ+, foreigners, persons with disabilities) is at least 10%. For events that do not achieve this threshold, we are eager to support the organizers in reaching this level by helping them identify diverse speakers. 
While 10% may not seem like an ambitious target from a global perspective, the unfortunate reality is that it is still a challenge for many Japanese startup-related events. We hope to be a catalyst for change, and will work towards ensuring more diverse representation within the overall ecosystem. In addition, we plan to raise this threshold in the coming years.
The "how" of DEI in startups
We are privileged to speak and partner with many startup founders who are keen to bring DEI to the forefront of the companies they are building. The best sources of learning include hearing how others have approached it. To that end, we'll feature an incredible set of speakers at our upcoming event on March 16. We hope you can join us! (With apologies, the event will be in Japanese only)
https://mpower-cic-startup-diversity.peatix.com/view
March 16, 2022 19:00-20:30
CIC Tokyo and online
19:00 – 19:15 – Opening
19:15 – 19:30 – MPower Partners & CIC Tokyo: our DEI policies
Kathy Matsui / MPower Partners General Partner
Mikako Suzuki / CIC Tokyo Event Lead 
19:30 – 20:15 – Startup DEI panel discussion
Yasukane Matsumoto / Raksul Inc. CEO
Haruka Mera / READYFOR CEO
Takaya Ishiguro / LayerX Director
Yumiko Murakami / MPower Partners General Partner
20:15 – 20:30 – Q&A
20:30 – Networking